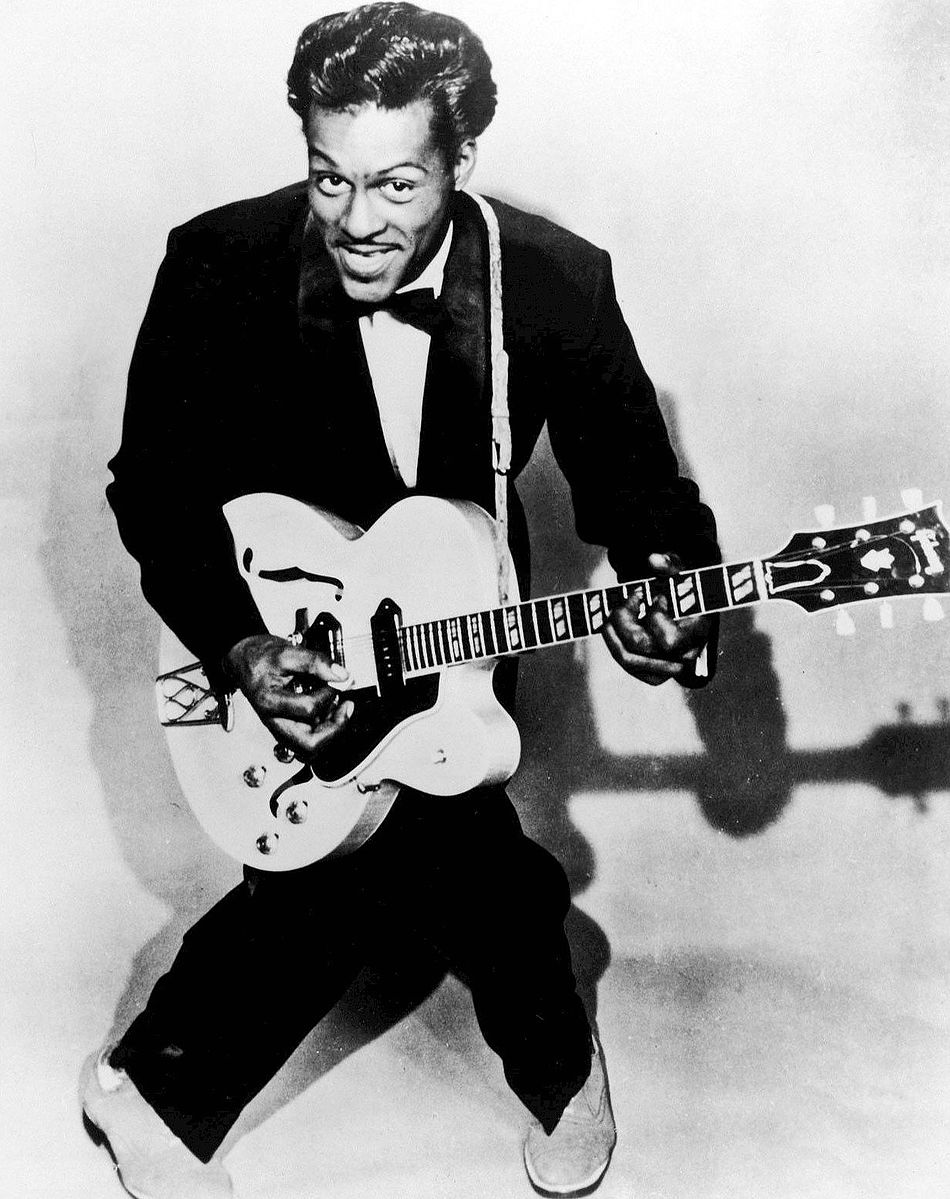 ---
Charles Edward Anderson "Chuck" Berry (October 18, 1926 – March 18, 2017) was an American guitarist, singer and songwriter and one of the pioneers of rock and roll music. With songs such as "Maybellene" (1955), "Roll Over Beethoven" (1956), "Rock and Roll Music" (1957) and "Johnny B. Goode" (1958), Berry refined and developed rhythm and blues into the major elements that made rock and roll distinctive. Writing lyrics that focused on teen life and consumerism, and developing a music style that included guitar solos and showmanship, Berry was a major influence on subsequent rock music.
Chuck Berry, wild man of rock who helped define its rebellious spirit, dies at 90
The Washington Post – March 18, 2017 (Excerpt)
Chuck Berry, the perpetual wild man of rock music who helped define its rebellious spirit in the 1950s and was the sly poet laureate of songs about girls, cars, school and even the "any old way you choose it" vitality of the music itself, died March 18 at at his home in St. Charles County, Mo. He was 90.
St. Charles County police announced the death in a Facebook post on its Website, saying officers responded to a medical emergency at Mr. Berry's home and administered lifesaving techniques but could not revive him. No further information was available.
"While no individual can be said to have invented rock and roll, Chuck Berry comes the closest of any single figure to being the one who put all the essential pieces together," reads Mr. Berry's induction into the Rock and Roll Hall of Fame in 1986. Read the full article…
Chuck Berry Dies at 90; Helped Define Rock 'n' Roll
The New York Times – March 18, 2017 (Excerpt)
Chuck Berry, who with his indelible guitar licks, brash self-confidence and memorable songs about cars, girls and wild dance parties did as much as anyone to define rock 'n' roll's potential and attitude in its early years, died on Saturday. He was 90.
The St. Charles County Police Department in Missouri confirmed his death on its Facebook page. Mr. Berry died at his home near Wentzville, Mo., about 45 miles west of St. Louis. The department said it responded to a medical emergency and he was declared dead after lifesaving measures were unsuccessful.
While Elvis Presley was rock's first pop star and teenage heartthrob, Mr. Berry was its master theorist and conceptual genius, the songwriter who understood what the kids wanted before they knew themselves. With songs like "Johnny B. Goode" and "Roll Over Beethoven," he gave his listeners more than they knew they were getting from jukebox entertainment. Read the full article…