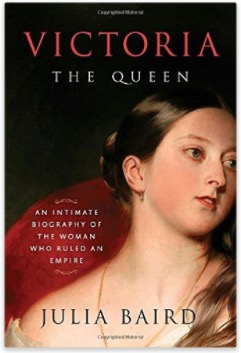 When Victoria was born, in 1819, the world was a very different place. Revolution would threaten many of Europe's monarchies in the coming decades. In Britain, a generation of royals had indulged their whims at the public's expense, and republican sentiment was growing. The Industrial Revolution was transforming the landscape, and the British Empire was commanding ever larger tracts of the globe. In a world where women were often powerless, during a century roiling with change, Victoria went on to rule the most powerful country on earth with a decisive hand.
Drawing on sources that include fresh revelations about Victoria's relationship with John Brown, Julia Baird brings vividly to life the fascinating story of a woman who struggled with so many of the things we do today: balancing work and family, raising children, navigating marital strife, losing parents, combating anxiety and self-doubt, finding an identity, searching for meaning. => More Information…
---
Review: 'Victoria the Queen' Delves Into Her Epic Reign
New York Times Book Review – December 20, 2016 (Excerpt)
You can learn a lot about a queen from the contents of her coffin. In her frisky, adventurous new biography of Queen Victoria, Julia Baird offers not only an inventory of the items with which the queen wished to be buried but also the exact placement she specified for them. Of course her treasured husband, Prince Albert, would be represented; Victoria had spent much of her life draped in black, showily mourning his death. So Albert's framed photograph and a cast of his hand were duly buried with her.
But John Brown, a Scotsman who became both Victoria's employee and constant companion, took pride of place. A leather case holding photographs of Brown and a lock of his hair was to be placed right in the queen's hand. Brown's handkerchief was to be laid atop her, while Albert's was merely to be included in the large collection of burial accouterments. She also wanted photographs of all her children and grandchildren, and to be adorned with 10 rings, including five from Albert, and one that had belonged to Brown's mother. => Read more…