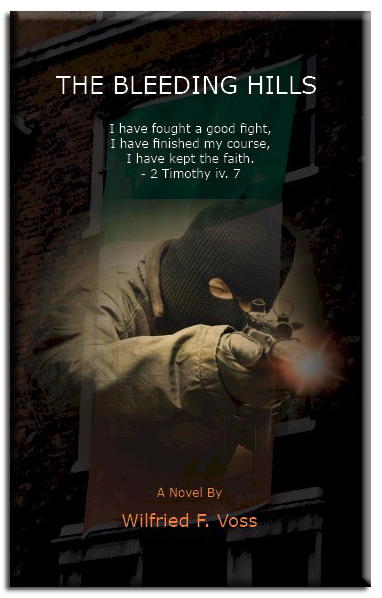 Saint Patrick Cemetery is part of the Parish of Ballynascreen and the Barony of Loughinsholin in the county of Derry. The graveyard is near Draperstown, midway between Derry and Belfast.
The cemetery records show that Bridget McNally was born in Draperstown in 1904 and deceased in 1975. Years before her death she had told her two grandsons that she wished not to be buried beside her husband in Derry, but rather in the town where she grew up and where she had spent the happiest years of her life. The second wish was that the headstone would carry her maiden name, McNally, and not Dunne. The latter request resulted in some effort, but Seamus used his resources skillfully and managed to fulfill all her wishes.
It had been more than thirty years since Finn's last visit, but he had no trouble finding her grave. He walked around the white chapel with its tall gothic-style windows, and then went down the grassy hill walking on one of the many narrow walkways that are characteristic of Saint Patrick Cemetery. The lawn around the graves was as he always remembered it, well maintained and beautiful. The trees surrounding the graveyard showed the first signs of fall, shedding their leaves, but the sun was shining and provided welcome warmth for the many visitors taking care of their loved ones. Many families had taken the opportunity to enjoy one of the last warm Sundays of the year, and, with the many children present, the cemetery looked more like a place where happiness reigned.
A few minutes later, Finn arrived at his grandmother's grave. Although he was disappointed that he had been unable to buy flowers, he felt confident that he would be forgiven. He knelt before the plain stone and made the sign of the cross, whispering the Trinitarian formula.
He closed his eyes, and, while praying for his grandmother, he began to have visions of the time in early December of 1975 when he arrived in Draperstown after a three-month mission in London. Officially, he was not allowed to leave London, but he had ignored his superiors' orders. He would deal with them later, and in more ways than they were expecting.
Shauna had traveled from Belfast as soon as the news of his grandmother's death arrived, and she had arranged accommodation at the village inn. Finn arrived the night before the wake. Seamus was on his way from Dublin.
The time in London had been intense, filled with wide-ranging underground surveillance and reconnaissance activities. Finn never stayed in one spot for longer than a few days, a precaution not shared by the IRA gang he was supposed to supply with intelligence information. After all, to this day he had avoided any encounter with local authorities or British Intelligence services.
His assignment was part of a renewed campaign on the mainland after the Birmingham pub bombings ten months before.
He had reluctantly accepted the need for a bombing campaign in England. Engaging the enemy on his own turf, similar to John Paul Jones during the American war for independence, was one aspect. The other was to raise awareness of the Irish war among the English people. They appeared amazingly apathetic when it came to the crimes of their own troops committed on British soil.
Nevertheless, Finn hated the inefficiency of the IRA's actions, and, most of all, he hated to be in the company of what he considered common criminals.
They had no respect for human life. They were unsophisticated and extremely violent. They were responsible for a two-year bombing and killing spree all over England. During his time in London, Finn tried to be the brain of the operation, but, as it turned out, he had no control over their actions.
On September fifth, 1975 a bomb exploded in the lobby of the Hilton Hotel in central London, killing two people and injuring sixty-three. On Finn's urging, they had taken any conceivable precaution to prevent bloodshed, and they had called the Daily Mail newspaper to warn that the bomb would go off within the next ten minutes.
The newspaper, in turn, called Scotland Yard immediately, but they were unable to evacuate the hotel in time. A phone-call to the hotel, received by the assistant manager, was not taken with the seriousness it deserved and resulted in unnecessary deaths and injuries.
London was again in a high state of alert, and Finn and his questionable comrades followed up with a series of hoax warnings.
On November third 1975, they planted a bomb in a car at Connaught Square, and the explosion injured a thirty-three year old attorney. Ironically, the blast blew out the windows of the house that is now home to former Prime Minister Tony Blair and his family.
Later that same month, two gang members killed TV presenter and Guinness Book of Records Co-founder and editor Ross McWhirter outside his home in North London. They shot him at close range in the head and chest.
McWhirter, together with his twin brother, Norris, was an outspoken critic of the IRA and had offered the sum of 50,000 English Pounds for information leading to the arrest of the IRA bombers.
Finn had pled with them to keep their focus on public institutions, not wasting time on personal feuds while avoiding bloodshed as much as possible, but he received only laughter.
Two weeks after the McWhirter killing, the gang, later known as the Balcombe Street gang, engaged into a shooting with local police in central London, but escaped to a flat in Balcombe Street where they kept two hostages. After a six-day siege, they were arrested and later sentenced to life in prison. Under the terms of the 1998 Good Friday agreement, they were released in 1999.
Finn had left for Belfast the day after the McWhirter killing. After years of clandestine activities, he perfectly understood Kevin Donnegan's reasoning for more effective actions.
After a long time of prayer, Finn stood up but remained at the graveside, his hands crossed in front of him and looking at the stone. He noticed the man in a black suit who walked toward him carrying a large bouquet of flowers in a vase.
Finn stepped back as Seamus put the vase on the grave and arranged the flowers. No words were exchanged, only a barely perceptible nod. Seamus, too, knelt to say a prayer. When he was finished, the two brothers, keeping the silence between them, walked up the hill, back to the cemetery's entrance where they stopped at Seamus' red Mercedes convertible.
They watched the young man wearing a New York Yankees baseball hat walk by, carrying some small gardening tools and a plastic watering can. He walked toward his car, a recent model BMW 7 series car, and stowed the tools and watering can into the car's trunk. Then he sat behind the wheel and after a few roars of his engine sped off, the rear tires spinning and throwing a mixture of gravel and dust into the air.
Seamus shook his head. "These guys just think they are invincible."
As soon as the car was out of sight he pressed a button on his car key and the trunk opened smoothly with a soft popping sound. He reached inside and pulled out an object wrapped in an old and greasy looking cloth. Carefully, trying not to get stained, he handed the object to Finn, who immediately started to remove the wrapping.
"Glock 17, as requested," Seamus explained. "Only one magazine with seventeen rounds, also as requested. Are you sure that is enough?"
The Glock 17 is the most popular handgun in the United States. It is even used by the New York Police Department. Originally designed for the Austrian army, there are adaptations for the Dutch, Norwegian, and Swedish armed forces.
Finn liked it because the Glock is a lightweight weapon. More than eighty percent of the gun consists of polymer materials. The only metal parts are the trigger mechanism and the barrel. It is most precise during short-range shootings and the process of dismantling takes less than a minute, requiring only a pin or nail.
"It will do, brother," he assured his brother. "I won't need more than a round to kill Marty."
Seamus could not hide his concerns. "Are you sure about this, Finn? There is a possibility that the Brits know where you are. They may have a plan to capture you and Marty at the same time. Why not have somebody else do the job? If you give me the details, I could make the necessary arrangements."
Finn shook his head. "I appreciate your concerns, but I have waited too long for my revenge."
He wrapped the weapon back into the cloth. "I have yet again verified the authenticity of the documents you delivered. They are, in fact, genuine MI5 communications and there is no doubt about Marty's involvement."
"Finn, still…"
Finn looked at him. "Seamus, he had my wife killed! You knew Shauna longer than I did, and you know how much we were in love. He deserves to die!"
"All right, Finn. But please tell me, do you have an escape plan?"
Finn grinned. "Of course I do. There is a ship waiting for me at Belfast Harbour."
"Well, provided you make it to Belfast."
"Mark my words, Seamus. If I don't make it to Belfast, the Brits will not get me alive."
"That is exactly what I am talking about," Seamus yelled at him. "Do you have a death wish?"
His brother's emotional outburst surprised Finn, but he answered calmly.
"Nobody wants to die, brother. It's all in God's hands, and I pray he provides for me."
Seamus shook his head, but seemed composed for the moment.
"Whenever you needed help, I was there for you, but I can't help you now. We have not been brothers for a whole lifetime, and I am not ready to lose the only sibling I have. Nevertheless, I wish you all the best, Finn."
"Thank you."
Seamus, still visibly uneasy about his brother's plans, turned toward the car's trunk, but stopped abruptly.
"Can you tell me where Marty is, or is that a secret you cannot share with your brother?" he asked Finn.
Finn looked straight into Seamus face.
"I have never had a reason not to trust you, brother," he said. "Marty lives on a farm outside the Northern end of Ballyclare, and that is where he is going to die."
"When?"
"Tonight. He won't see another tomorrow."
Seamus nodded. Then he turned to close the trunk.
"Well, I pray to The Lord this is not our final good-bye," he said. "Call me when you're safe. If I don't hear from you by tomorrow, I must assume the worst."
"Will do, brother."
"I will pray for you."
"Thank you. I will need it."
Seamus opened the driver side door and stepped into the car. Finn waved to his brother who stood there and watched him take off. He remained motionless for a little while, still holding the weapon in his hand.
He remembered the night when the three of them, Shauna, Finn, and Seamus, sitting in the dining room of the Draperstown Inn, exchanged stories of their life during the past years since Finn and Shauna had moved to Belfast.
Marty had called in earlier, and he would be able to attend the wake, but only briefly, out of fear that they might be raided by the RUC.
Seamus had received his law degree from the School of Law at Trinity College in Dublin. He now ran a successful import and export business in Dublin.
They went back to Finn and Shauna's room where Finn was finally able to share his stories without preying ears and eyes around them. Here he told them of his experience with "Operation Motorman", during which 12,000 British soldiers were deployed to take IRA "no go areas" in Belfast and Derry.
He feasted on Seamus' excited face when he shared the story of the Mountjoy Prison helicopter escape.
"You were there to free the IRA prisoners?" Seamus asked in astonishment.
"Not the escape, no," Finn laughed. "But I was involved in the planning, and I helped to hijack the helicopter."
"Well," Seamus grinned at him. "It seems you are running this whole war on your own!"
Finn just smiled and chose not to respond. He knew his brother was only teasing him.
He was still smiling when a silver Opel Astra drove in and parked right next to Finn's car. It forced him out of his trance and back into reality. Finn looked at the weapon and quickly threw it onto the passenger seat. He entered the car, turned the ignition on, and drove off.
The man with the Yankees' baseball hat had watched the scene from the safe distance of a hillside adjacent to the parking space. He checked the display in the dashboard and verified the subject's position.
His colleague had stowed their heavy electronic equipment, which included the ultra-sensitive microphone, which allowed them to monitor every conversation up to several hundred yards away. They had recorded the entire conversation between the two brothers and transmitted it per Skynet link to their superiors in Belfast.