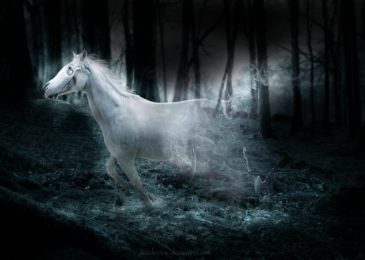 Once upon a time there was a young stallion named Alabaster, he is ghost horse and he lives in Morgan`s woods…
So his story is a medium sized scary story of a REAL ghost!
One day two boys, Wade: 15 and Jake: 14 went riding into Morgan`s woods, and when they noticed the horses were acting weird they dismounted and the horses went racing away. The next thing that happened was the boys felt breathing behind them. They slowly turned around and saw a stallion with a black streak from the shoulders down to the front leg. The stallion ran past them and vanished into thin air when it got to the river. The boys went back to the barn and asked George if he knew the story of the stallion.
Unfortunately he did: "There was a young man who had some gold and a group of British soldiers who wanted the gold but the man said I don`t have it! So the soldiers went around the place and found Alabaster eating some hay in the woods and the gold was under the hay. When they left, a soldier was riding Alabaster away, but that young man made a stupid mistake he took out a pistol from under a floorboard and shot the rider on his horse and the other warriors killed him and the horse."
Two weeks later Wade was riding around the lake a rattlesnake bit his horse and Wade went flying behind a rock and broke 3 ribs and a leg. It was 5 o`clock when his uncle found him.
Wade`s uncle said, "I just got saved by a ghost horse!"
"How?" asked Wade.
Well when I was rounding up the cattle I saw they were acting weird and then I saw it and it ran over to your horse and that`s when I found you!
Written by Patrick J. G. Voss – 9 years old.