On February 14, 2016 (Valentine's Day, after all), all of our websites, including frogenyozurt.com, fell victim to a severe hacking attack. The damage was to such a degree that our Internet service provider (Bluehost.com) was unable to revive our Virtual Private Server (VPS). We have managed to re-create this website on a different but secure server not operated by Bluehost.com.
In the process, we also lost the backup files of all websites, but the lessons learned out of this disaster are:
Stay away from WordPress to run your business' website, unless you use a "shared service," which is protected against hacking. The downside of a "shared service" is that your website will be limited in terms of download speed, which will limit your rankings, no matter how hard you try.
Never sign up for a Virtual Private Server (VPS), unless you are or have access to an experienced server administrator (Bluehost never mentioned that VPS also means you are responsible for malware scans, malware removal, prevention of hacker attacks, backups, etc. but they're happy to take your money).
Stay away from Bluehost.com; their technical support is horrible (This website now runs through mydomain.com; same slow technical support, but they provide malware protection when you sign up for VPS).
While all information from frogenyozurt.com is lost, we are working on reviving it.
---
WordPress Security: Protection from Hackers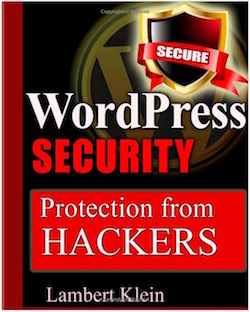 Discover The Easy Steps You Can Take To Secure Your Website And Keep It Virtually Hack-Proof If you're like most people these days, you always go the extra step to keep yourself, your loved ones, and your possessions safe. You probably lock your doors at night… maybe you even have a home security system. You might have a car alarm installed as well.
If I looked at your computer, I'd probably find an antivirus and a running firewall. That covers everything, right? WRONG! Too many people overlook the security of their websites. Whether you're using WordPress as a personal blog or a way to secure income, chances are you're putting your website at risk of hackers. In fact, tens of thousands of websites just like yours are hacked each year – why? Nobody really knows except the hackers themselves.
Some hackers are looking to steal your money, others are out for a laugh, but most of them are simply out to practice their techniques so they can hack bigger and more important websites like PayPal, Amazon, Ebay, and Facebook. When your website it hacked it can be very difficult to regain full control of it and restore it… so prevention is vital!
Fortunately, preventing hackers from getting a hold of your websites involves only a few simple changes which I'm ready to share with you in my new guide… Read more…