"Cemetery Polka" and other dark stories from New England by Wilfried F. Voss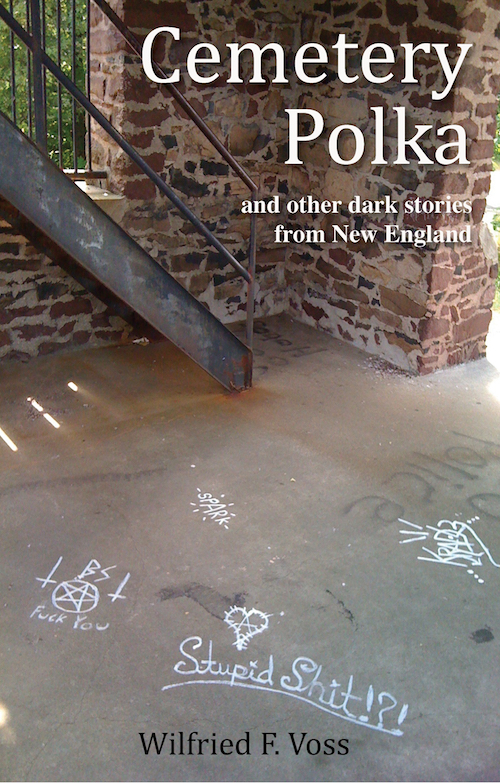 I live in Grand Fenwick, Massachusetts. I observe. I get annoyed. And I write. And that, in remarkably few words, is my excuse for writing Cemetery Polka and other dark stories from New England.
Don't waste your time trying to find Grand Fenwick on the map. The town of Grand Fenwick, Massachusetts, its residents, and events are a product of my vivid imagination. Nevertheless, Grand Fenwick represents every small town or village in New England that managed to escape the gravity of the larger, liberal, and vibrant cities. Unavoidably, due to lack of inspirational stimulation, the people of Grand Fenwick have developed their unique social responses.
Geographically speaking, all of the Grand Fenwicks in New England are trapped in economically depressed areas, nurturing a conservative mindset that, ironically, prevents any economic or social progress. In layman's terms, the town of Grand Fenwick "is so like last century." Thus, the name Grand Fenwick is carefully chosen.
I never imagined that you could live in an American equivalent of Leonard Wibberly's Duchy of Grand Fenwick, or even that a Chevy Chase movie like Funny Farm was not based on mere fantasy, but careful observation. Living in Grand Fenwick has changed that impression (without extending my horizon, I may add), and that is what my stories are about. Well, you may call me the poor man's Leonard Wibberly, and that would still be a huge compliment, and I tend to ignore anybody criticizing me and my writings. Life in Grand Fenwick has provided me with a skin thicker than I imagined would be possible.
Disclaimer
Needless to say but nevertheless enforced by legal counsel, what you are about to read is based solely on the author's dirty fantasies and vivid imagination. The contents of my stories are strictly of a satirical nature based on my personal views and should not be taken seriously. While inspired by personal observations, all characters appearing in this work are fictitious, and any resemblances to real persons, living or dead, and events are purely coincidental. Shame on you if you believe the nonsense I write!
Stories from Grand Fenwick, Massachusetts